How To Celebrate Holy Week With Your Toddler.
I've never really given Easter week a second thought. We celebrate Easter on Sunday but the days leading up to it were just like any other days throughout our year. We went about our normal, everyday lives, not considering what the week looked like as Jesus carried out the greatest rescue mission ever known. 
A few years ago we decided we wanted to be different. So we intentionally set some time aside to make it that way. How To Celebrate Holy Week With Your Toddler. We wanted to create something tangible for our kids, something they could look forward to doing each day of holy week. We wanted the stories of Jesus life to come alive to them. So we set out a plan to make that happen. Nothing huge or fancy, but simply a way to infuse our everyday with the story of Jesus. I'll share all the details below so you can easily replicate it for your family.
How To Celebrate Holy Week With Your Toddler
I found this idea a few years ago and whipped it up Sunday morning before my oldest woke. It took a little time finding the verses that I wanted to use but now that I've done that part you can just copy away! No use reinventing the wheel;) I wanted a way for our boys to be able to engage with the events that took place in Jesus' life during the week leading up to his crucifixion and resurrection.
We planned a little activity everyday along with a few books we read at breakfast, dinner and throughout the day. We used a long piece of butcher paper, taped to the wall, and separated it out into each day of the week. Then we wrote the corresponding verses at the bottom of each day so that we could read them at breakfast and dinner. Then ,when we did our activity for the day we glued it to this piece of paper. It made for fun conversation each night at dinner.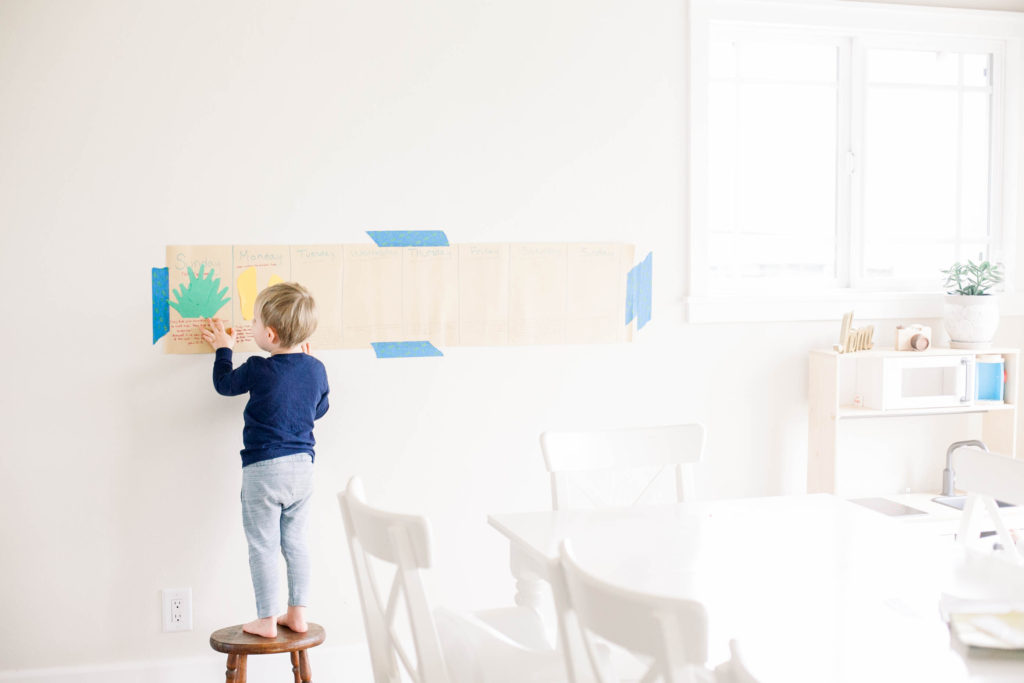 Here's the supplies that would be handy to have:
Bowl for washing feet
Bread & grape juice for last supper
Here's what each day looks like:
Sunday – Palm Sunday
John 12:13 (Read pg 286-292 in The Jesus Storybook Bible as well as Holy Week)
We try to find a palm branch at our local grocery store for a fun added element to our day. We make a palm leaf using cut outs of green paper using tracings of the boys hands.
Monday – Jesus Clears The Temple.
Matthew 21:12-13 (Read pg 286-292 in The Jesus Storybook as well as This Is The Gospel)
We cut out paper to look like a table with some coins on top of it. We talk about why Jesus was upset by what he saw going on in the temple.
Tuesday – Jesus Washes The Disciples Feet.
John 13:14-16 (Read pg 286-292 in The Jesus Storybook Bible as well as Holy Week)
We do another cut out, this time of our boys feet. Before dinner we'll wash each others feet and talk about how Jesus did the same for his disciples and what that means for us.
Wednesday – The Last Supper.
Luke 22:19-20 (Read pg 294-301 in The Jesus Storybook Bible as well as Holy Week)
We make a cut out of a loaf of bread and a wine glass. For dinner we bake some bread and get some grape juice as a special treat.
Thursday – Jesus Prays In Gethsemane.
Luke 22:42 (Read pg 294-301 in The Jesus Storybook Bible as well as Holy Week)
An attempt to create praying hands is made for this day. The wonderful thing about this is that the boys don't care what it looks like but love getting to do these little activities together.
Friday – Jesus Dies On The Cross.
John 19:18-19 (Read pg 302-309 in The Jesus Storybook Bible as well as The Tale Of Three Trees)
We'll make a cross out of a popsicle stick and talk about what Jesus sacrifice means for us. We're also trying out a Passover meal with friends on this evening. This will be our first year doing it so we've been using this book as a reference guide!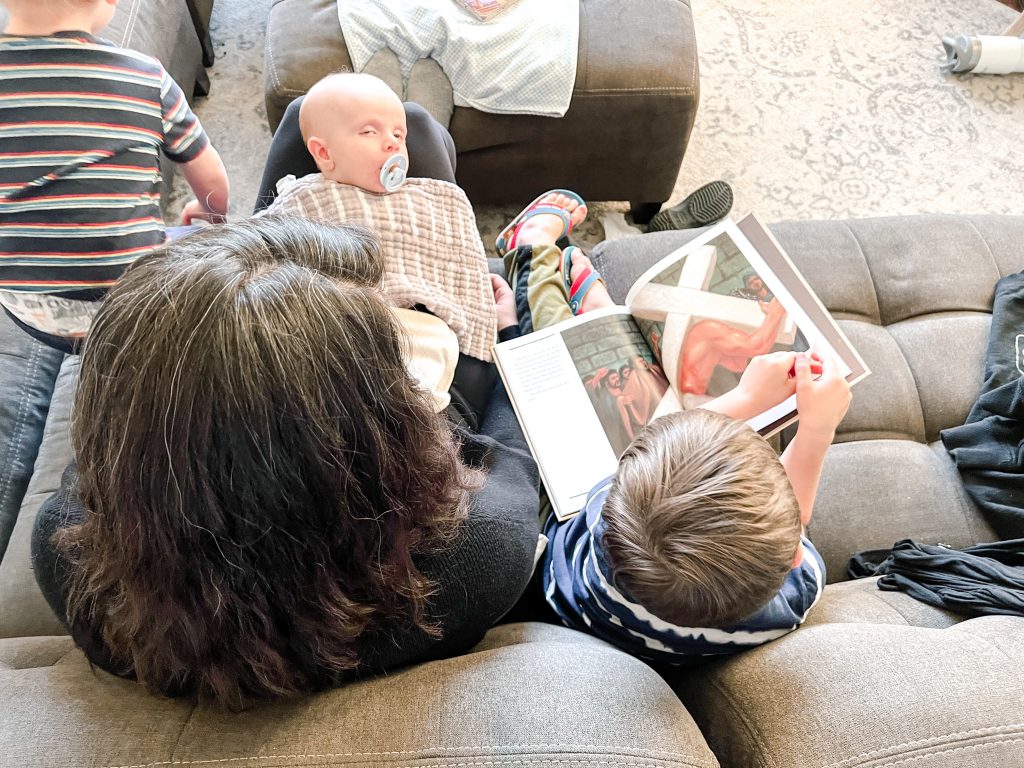 Saturday – Jesus Buried In A Tomb.
Matthew 27:59-60 (Read pg 302-309 in The Jesus Storybook Bible as well as Holy Week)
We'll draw a tomb and a rock to cut out and glue on our board. This will probably be a good one for both boys to cut out themselves. They love getting to use the scissors and since there's not many hard edges for these cutouts it might be perfect.
Sunday – HE IS RISEN!
Matthew 28:5-6 (Read pg 310-317 in The Jesus Storybook Bible as well as Holy Week)
We're making this day a full on party! We want this to be a huge celebration of how Jesus has defeated sin and death and that we get to be with God again because of this! We'll start with a special breakfast together followed by Chris reading us our bible story for the day. We'll chat about how good God is and why this is such a big deal, looking back to the garden. We like to read through each of our books throughout the day.
Our boys LOVE to print out coloring pages so I thought it would be a fun treat to make them their own special Easter Coloring Page that they could color and display in our home. You can download one for your family right here!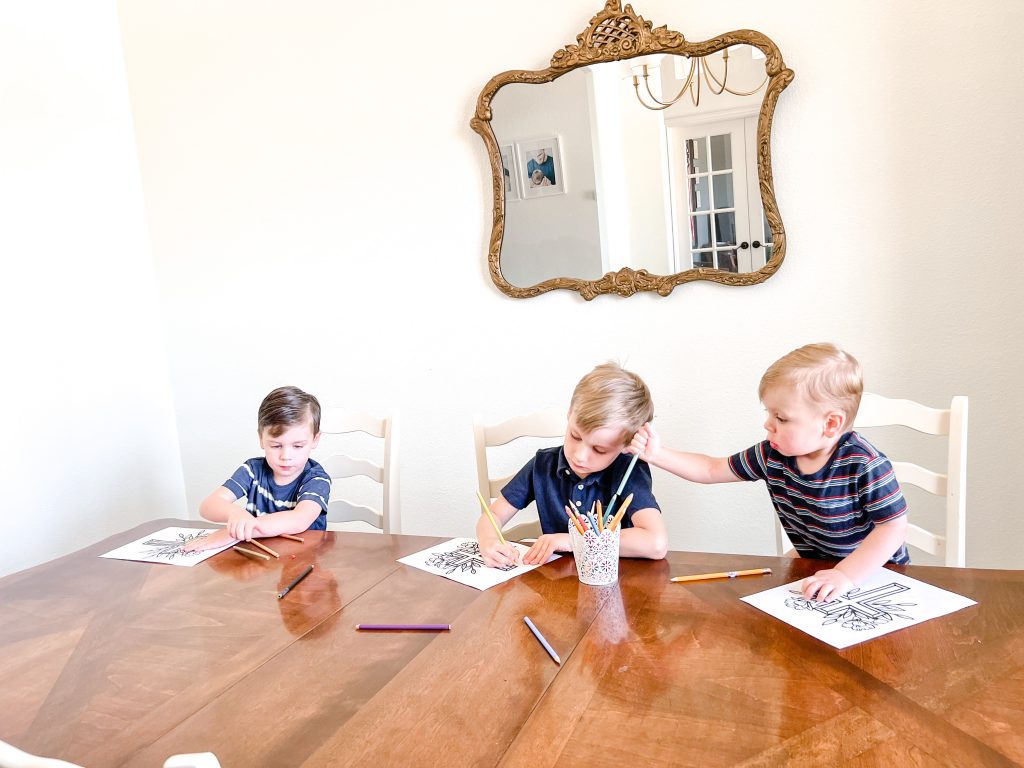 This bible is SO good. Like so much so that Chris and I will read it to the boys and then talk to each other about how good God is and how much the story spoke to our hearts. It's definitely one for the whole family and every story points to Jesus which I absolutely love.
I found this board book more recently. It walks through all the events that happened during Jesus last week on Earth. It's a great book to have year round but definitely wonderful as we walk through the events each day this week. While it does say 'Baby Believe' in the title it's definitely written for ages 3 and up. The pictures alone evoke so much emotion that Asher turned to one of the pages and said 'what happened?' because he could tell by the look on the faces that something wasn't right.
While reading Asher the Holy Week book we got to the page where Jesus was crucified and he said 'what happened?' all concerned. And then he asked 'why.' And so I tried to give him a quick rundown of why they killed Jesus, how Jesus' death means life for us and a relationship with God. And I thought back to all we had read about in this book. This Is The Gospel beautifully lays out the story of Jesus from the very beginning of creation to give an introduction of the good news. A perfect read for Easter week. 
Music can play such a vital role in how we experience and ultimately remember certain events in our life. We wanted to put together a playlist that spoke to Jesus death, resurrection, and what that means for us personally.
I hope this encourages you to figure out How To Celebrate Holy Week With Your Toddler. If you have a favorite Holy Week tradition, I'd love to hear about it!
If you enjoyed this post, you may also like this one all about some of our families favorite books.